Parent Teacher Fellowship
Our private Christian school offers significant opportunities for parents to make a difference in their children's educational environment. For more information about Salem Christian School's PTF (Parent Teacher Fellowship) chair at
PTF@salemchristian.org
.
CLICK HERE FOR THE LATEST PTF UPDATES AND NEWS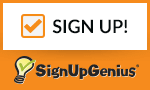 If you are looking to sign-up, the PTF has created an online ability for you to sign up.  And, they will get back to you.
The parent-teacher relationship is central to life at Salem Christian School.  The PTF  exemplifies the desire to connect parents and the school so that Salem Christian School fosters an environment where each child flourishes.
Each family enrolled at Salem Christian School is a member of the PTF.  Parents serve in classrooms, participate on committees, plan events, and coordinate projects. This active involvement ensures the continued excellence of the academic and enrichment environments for our students.
Purpose
To promote and conduct itself with in the SCS vision statement: To assist parents in developing a God-centered worldview in their children by providing a vibrant education and spiritual environment where Godly character and unity in Christ can flourish, thereby enabling students to serve God and impact the world through biblical thought and action.
To provide a structure in which parents and staff can work together to achieve the purposes of the School. And is comprised of Volunteer parents who desire to serve the staff, students and their families in a way that glorifies Christ.  As such, the PTF should conduct itself in light of the vision, objectives and desires of Salem Christian School.
To encourage fellowship and connectedness for all families of SCS.
Objectives
Strengthen the unity among parents/students/staff
Encourage and support educational activities
To provide an opportunity for the parents to serve in the ministry of the school through leadership, participation, prayer and encouragement of one another.
Further develop the educational resources and enhancements of the school that yearly tuition does not cover.
Here is a list of SCS PTF events:
Room Parents
New Student Orientation
Back to School night
Picture Day
Christmas Concert
Grandparents Day

Teacher Appreciation Week
Book Fairs
Elementary Christmas Store
Fine arts evening
Parent / Teacher Forum
School Showcases / Open House
PTF Previous Minutes